This venerable restaurant introduced Western cuisine to Japan and laid the foundation for its development
History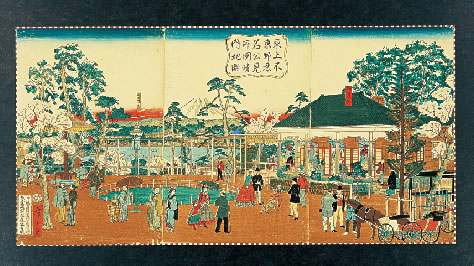 Utagawa Hiroshige (III) 1876
It was 1872, the year the railroad opened between Shimbashi and Yokohama, when the period of civilization and enlightenment was building to its height. This was the year that Seiyoken, the trailblazer of French cuisine in Japan, was founded in Tokyo's Tsukiji neighborhood. At the time, almost no Japanese people had ever tasted beef, and Western food was extremely unusual, but after the founding of Seiyoken, French cooking came to be widely loved by the people of the Meiji era.
When Ueno Park opened in 1876, Ueno Seiyoken was established on the current site of the Shinobazu Pond embankment. It then became a fashionable meeting place in the Rokumeikan period, gathering Japanese and foreign royalty and titled nobility, and celebrities from all walks of life, and even occasionally becoming the scene of historic talks.
We invite you to enjoy exquisite moments in an elegant atmosphere, with its traces of vintage Meiji, savoring sophisticated cuisine backed by a century and a half of tradition, and basking in the thoughtful, caring hospitality enjoyed by prestigious guests throughout the restaurant's history.